4th Biennial of Contemporary Textile Arts
Threads made of wool, textiles, paper, iron: Under the creative fingers of internationally renowned textile artists from Switzerland and abroad, quilts, woven items, bobbin lace, embroidery, crochet and knitted works take on unimagined forms. "If our mothers and grandmothers could see this, they would be amazed, but their hearts would open wide. This Biennale sees itself as a bridge between the craft savoir-faire of our ancestors, anchored in everyday life, and the artistic forms of expression of today," says Christiane Studer. Together with her husband Marc-André Studer, she founded the Biennale in 2015 and has since been president of the organising association "Eloge du fil". Alongside the appreciation of textile art by a broad public, the association also wants to offer a stage to the upcoming creative generation of textile artists. After the last Biennale in 2019, which attracted 3500 visitors, the pandemic forced us to take a break from art. Now the exhibition is back.
Renowned artists and street art
This year's 4th edition of the Biennale of Contemporary Textile Art unites exhibitions by seven internationally renowned individual artists and a collective of five artists. They will have the most beautiful venues at their disposal in the heart of Avenches.
The spirit of this biennial flies over the entire old town in the form of an urban art flag arrangement with around 200 textile "visages vagabonds" (vagabond faces). Textile artists from all over Europe and many passionate people from the region, including a class from the Ecole de Couture Fribourg, have made contributions.
Paola Zanda, textile artist from Carona/TI presents beautifully colourful quilts in the basement of the town hall, for which she draws inspiration from nature and especially from trees.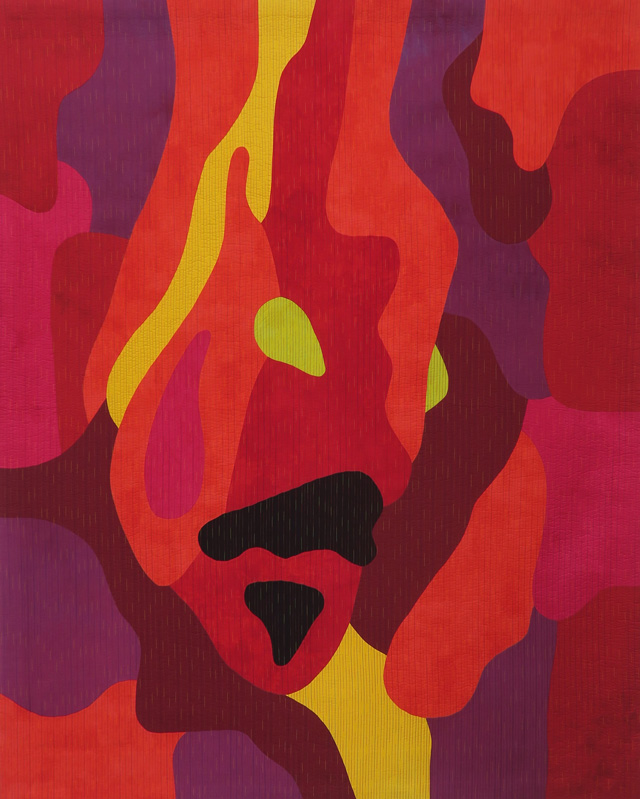 The artist and "yarn virtuoso" who lives in Neuchâtel, Renate Rabus, finds in embroidery an invitation to stroll and dream. Her works, including an enchanting aquarium, are on display in the hall of the Swiss Hotel la Couronne.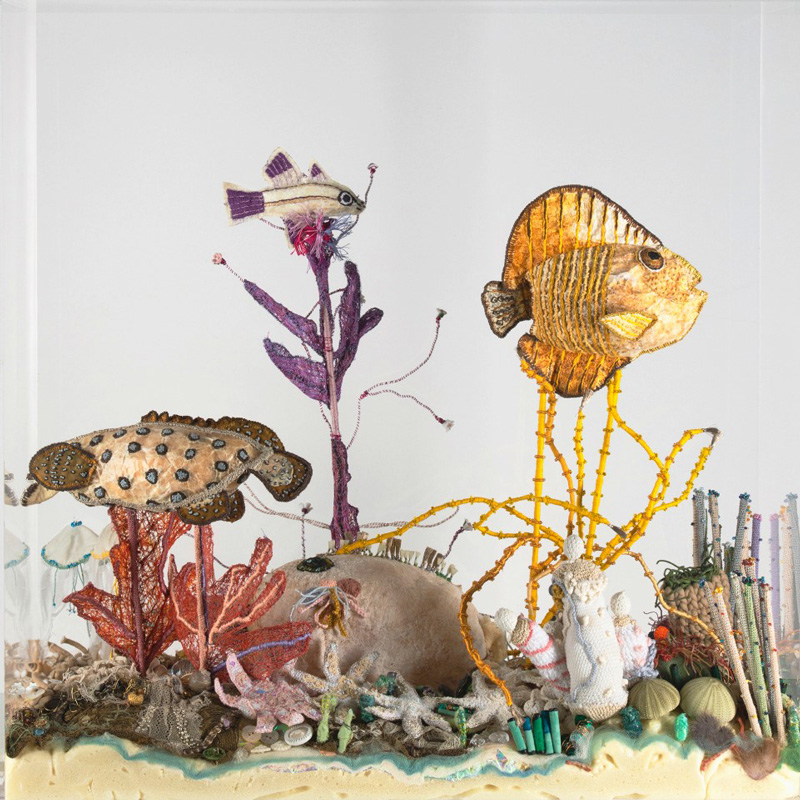 Maria Stoller, a textile artist and sculptress from Zurich, is well known for her expressive sown pictures and textile-built books. Her portraits convey emotions and problems in society as the viewer literally looks them in the face. Her space is the Gallery Local 49 and the adjoining restaurant Au jardin fleuri.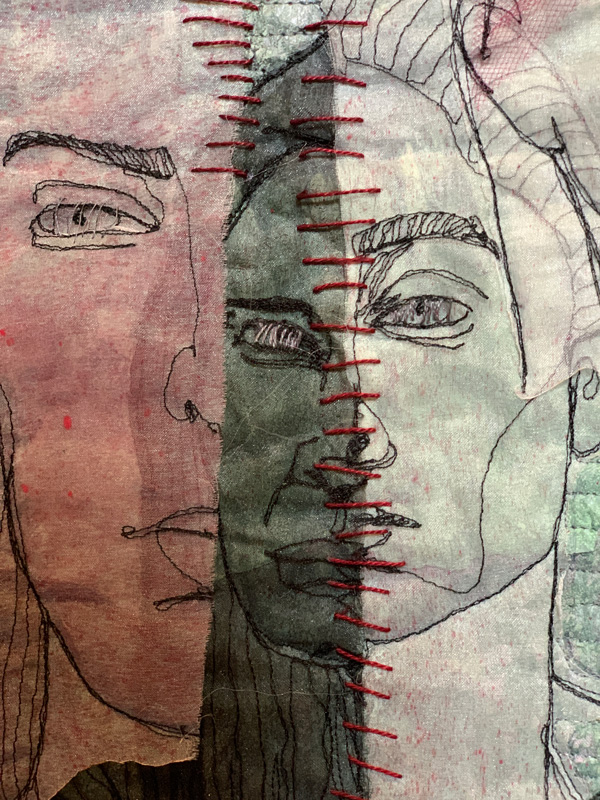 Jürg Benninger is at home at his studio in Biel/BE, but also in his imagination. With crochet hook and wool, he creates three-dimensional works of art that have something to say to everyone with their often absurd-looking comedy. He exhibits at the Roman Museum.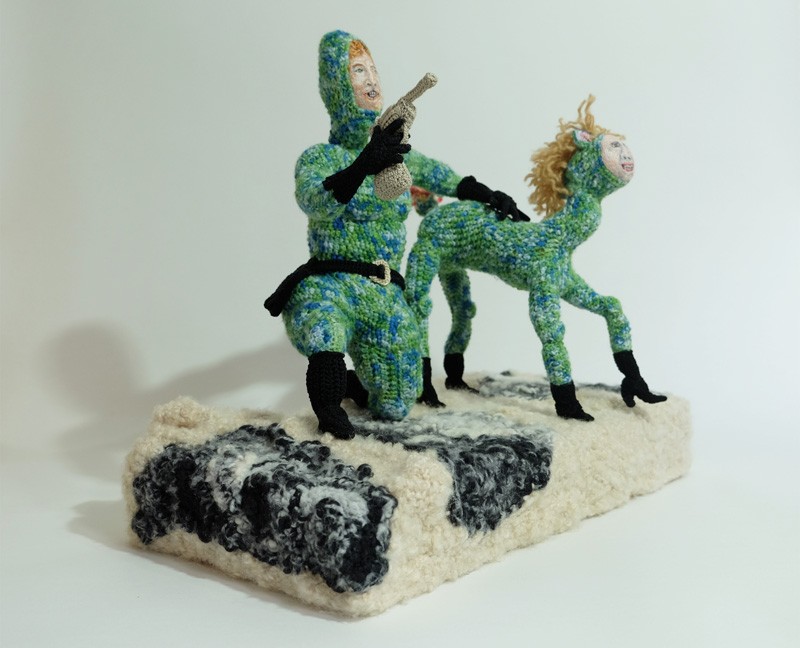 The former butcher's shop will also be used for textiles. Mireille Finger, a lace maker, felter and weaver from Courtételle/JU, uses everything from silk, linen and wool to glass fibres and iron wire to create her ravishing works of art.
Daniela Melberg, visual artist and felter from Ebikon/LU, nourishes her creativity from observations made on nature. Colours, shapes and spontaneous inspirations during the creative process result in something completely magical made of felt. This can be seen in the Sainte-Marie-Madeleine church.
In the same church, a reunion will take place with the lace maker Catherine Lambert from Vercorin/VS, who already exhibited at the Biennale in Avenches in 2015 and 2019. She will show a new presentation of her monumental installation of dancing feathers.
The Groupe arT-Tex is made up of five textile artists from Western Switzerland who will present their quilt art in the Great Hall of the Avenches Theatre: Monique Bongard Stalder from Penthalaz/VD, Marianne Bender-Chevalley from Fully/VS, Martine Mercier from Gimel/VD, Patricia Fuentes from Châtel-St-Denis/FR and Sophie Zaugg from Le Sentier/VD. As a collective, they nourish their personal creativity, and yet each of them maintains her own style of expression.
Information for visiting the Biennale
Exhibition hours: Saturday, 15th until Sunday, 23rd October 2022. daily from 11.00 to 18.00 (except on the 23rd October it is only open until 17.00).
Admission price: A one-day admission to all exhibition venues costs 10 Swiss francs. The ticket office is next to the church.
How to get there: Avenches is well connected by public transport. It is a 10-minute walk from the railway station to the centre of the town. Drivers take the A1 motorway exit for Avenches.
Information about the event: Detailed information on the 4th Biennale and the artists can be found here.