Gold, Feminism and the Matter of Female Fertility
The Artist Residency Centre Pompadour, Northern France
Since 2017, the artist residency Centre Pompadour  - under the direction of founder and artist Michaela Spiegel - welcomes artists from a wide range of disciplines such as dancers, writers, visual artists, etc. The focus of the Centre Pompadour lies therefore on the examination of contemporary feminist themes from all disciplines. Different approaches will be discussed among the residents of the respective cohorts and their own feminist position will also be reflected upon. The history of feminism can be read through the books in the château's own library, which also includes numerous biographies of women, books on psychology, politics, sexuality and also cookbooks.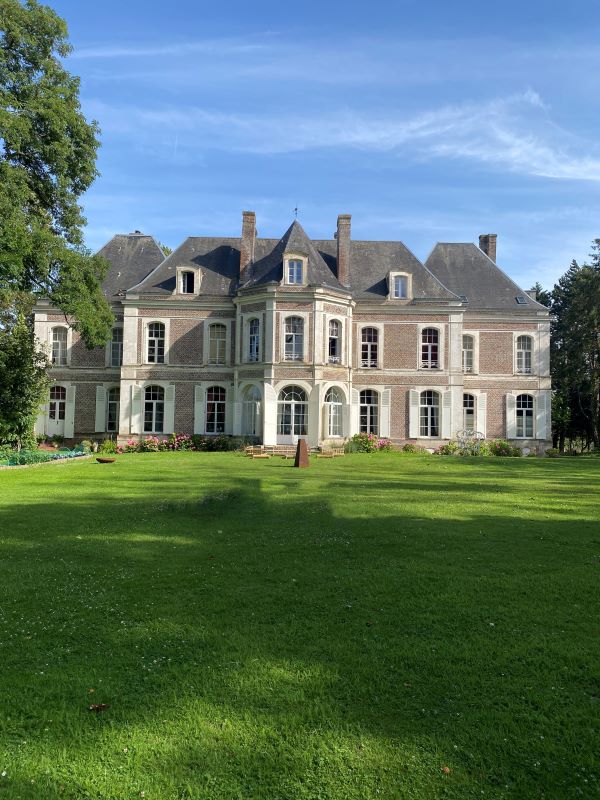 Photo: Pompadour Centre Palace and Gardens © Viktoria Koestler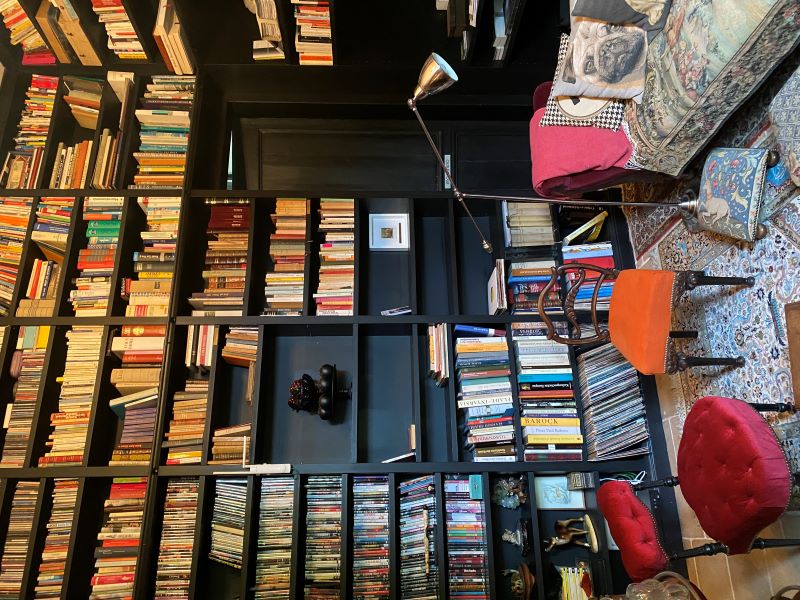 Photo: Centre Pompadour Library © Viktoria Koestler
"The Golden Egg Project" by Artist Viktoria Koestler
During her three-week residency, the artist Viktoria Koestler explored the theme of feminism and female fertility. Her art project "The Golden Egg Project" is inspired by the medical-technological developments of "social freezing", which have been taken up again and again in the media over the past few years, as well as by her own examination of the subject, and above all by the fundamental questions: Becoming a mother? - When, how and/or at all? 
Visually, the artist Viktoria Köstler depicts the eggs produced by the woman as dots. Her "dot paintings" are thereby an artistic representation of hope for a miracle that accompanies the creation of a new life. The design of the "eggs" is a form of meditation, bringing these dots to paper in a structured and uniform way. Viktoria uses 24-carat gold very purposefully in this process: a "gilded dot" symbolises the "Golden Egg", which ultimately leads to the miracle of life. Naturally, there is usually only one, sometimes two and extremely rarely three "Golden Eggs" - and unfortunately often also none.
Paintings consisting of dots, in other words "dot paintings", are absolutely nothing new, think of the works of Damien Hirst or the Japanese artist Yayoi Kusama, who is sometimes known for her very characteristic "polka dots".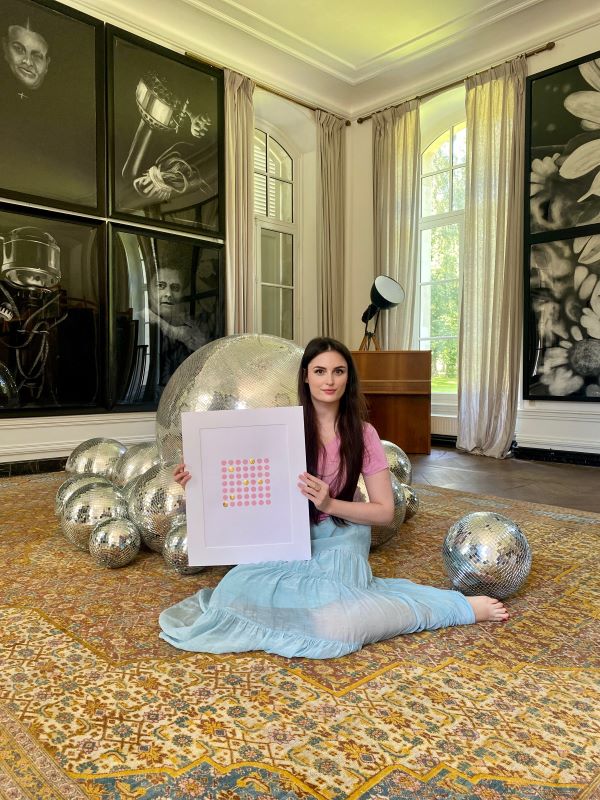 Photo © Viktoria Koestler: Artwork Viktoria Koestler "It's a girl! #1" and artwork in the background © Michaela Spiegel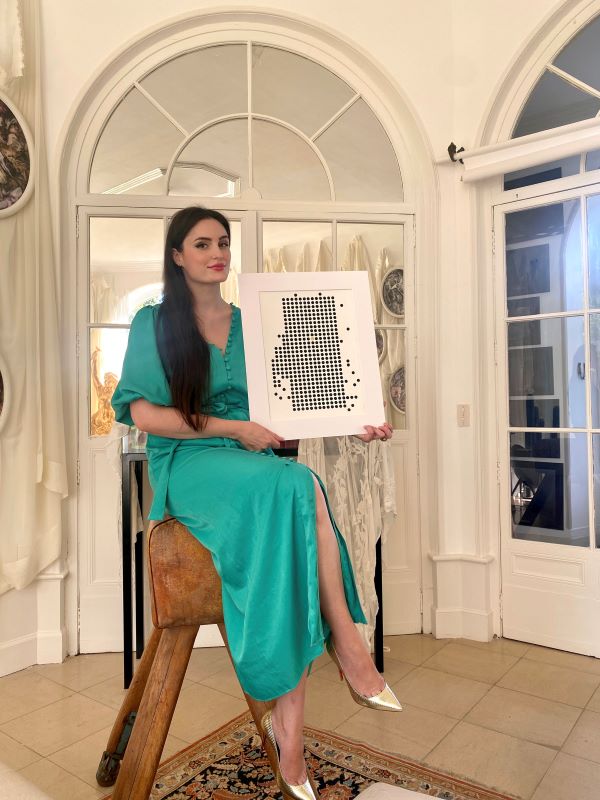 Photo © Viktoria Koestler: Artwork Viktoria Koestler "Having success while others have already given up #3"
New Images of Women like "Girlboss" or "Mompreneurs" Overwhelm Modern Women
Women still face considerable obstacles when it comes to achieving equality in the workplace and when it comes to balancing work and family life. However, in the media and especially through social media, we are always told "anything is possible". You can have a significant career, raise children, live and work all over the world, and so on. In the last few years, many "fempreneurs", "mompreneurs", or women who describe themselves as "girl bosses", as well as many other new word creations, have appeared on social media, showing that being a mother AND an entrepreneur or being a woman AND having a career in male domains is "totally possible". The main problem is the comparison this creates, which in turn puts many women under pressure: "She manages to combine a career, children and good looks, why is it so difficult for me? The reality is that on social media often only the successes and the good sides of life are presented, the difficulties with the fair distribution of tasks with the father of the child, the financial effort or even the additional entourage of helpers such as nannies or domestic helpers are less documented.
During the residency, Viktoria Köstler met Franziska Schutzbach, a gender researcher and sociologist with a PhD who wrote the book "Die Erschöpfung der Frauen" ("The exhaustion of women", Droemer, 2021). Her publication shows that women - those who identify as women - are exhausted by the many opportunities of today, but also that the societal expectations placed on women exert enormous pressure. Many demands are placed on women, which push them to their breaking point, as women give a lot but get little back from society, the state and often from their partners.
"Social Freezing" as an Achievement for Modern Feminism?
From a feminist perspective, egg freezing can be seen as a way for women to have more control over their reproductive lives. In the past, women had limited family planning options. They were expected to marry young and have children early, which often meant sacrificing their education or career goals. With technology becoming more and more fashionable, women are given the hope that they can - depending on their individual starting point - gain a little more time.
Gold and Feminism in the Works of Viktoria Koestler
Viktoria Koestler often integrates 24-carat gold in her oil paintings. Since she learned the modern techniques of gilding as well as the very elaborate technique of poliment gilding from an icon painter in New York City in 2019, she has not let go of this fascination and continues to create new "light-filled" works. Gold absorbs and reflects light, no pigment can match the luminosity and aura of this precious material. Icon painting is a traditional art form - often used in a religious context - where the halo in particular, usually in gold, has a special meaning. This luminous ring can also be seen as a luminous circle.
Symbolically, the light in Viktoria Koestler's works can also remind us of each person's own value. Every person can be considered a "piece of gold". The extent to which the light shines varies from individual to individual. Historically, women's voices in particular have often not been heard throughout many patriarchal eras. There is a need to catch up here, even in the patriarchal art world. The more women bring their own opinions and artistic expression to the outside world, the more we move towards a world that is becoming more and more equal.
More about gold and feminism can be found here in the video. (© video and editing: Michaela Spiegel)